Tian Jun Meets With Secretary of CPC Chaoyang Municipal Committee Jian Biao and attends Signing Ceremony of Chaoyang 500MW Photovoltaic Grid Parity Demonstration Project
On 19 November, Executive Director and President of China Power Tina Jun met with Secretary of CPC Chaoyang Municipal Committee Jian Biao at the head office of the company. Both parties exchanged their views on new energy resource development and further cooperation on energy.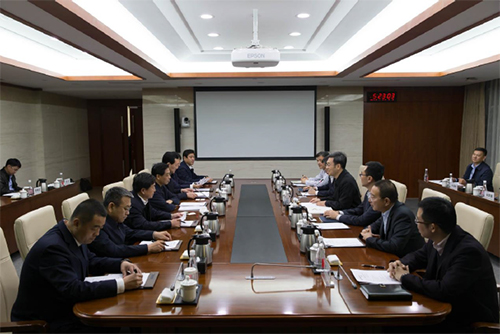 Tian Jun introduced the development and industrial advantages of China Power. He said China Power would establish a clean green energy system with high efficiency with Chaoyang, forming a positive development mechanism. He hoped both parties could enhance their cooperation on development of new energy base and facilitate sizeable and intensive development of new energy resource in Chaoyang so as to promote high-speed growth of Chaoyang and achieve a win-win situation. Recently, China Power intended to develop a 500MW photovoltaic grid parity demonstration project in Chaoyang and hoped to receive support from Chaoyang for immediate commencement of the project.
Jian Biao expressed appreciation to China Power for the support and assistance it has given to the development of the clean energy industry of Chaoyang. He said Chaoyang will strive to increase the installed capacity of clean energy to 10000 MW by 2025 in order to become the source of supply of clean energy for Beijing. China Power has huge advantages and good track record in the development and operation of clean energy projects. It hopes to strengthen the cooperation between the two parties and promote its transformation and upgrade for high quality growth. Chaoyang will work with the greatest effort to foster a good investment and operational environment by providing a wide range of preferential policy for cooperation projects.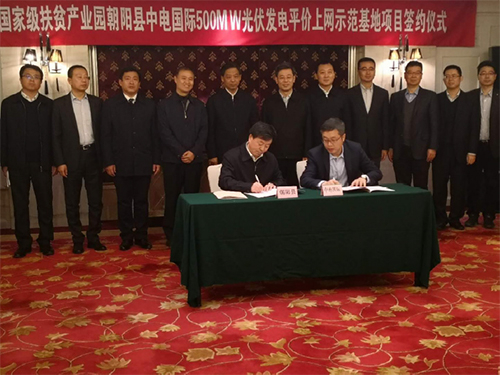 In the morning of 21 November, the signing ceremony of 500MW Photovoltaic Grid Parity Demonstration Project Agreement Between Chaoyang County, Chaoyang City and CPI was held in Beijing, which marks that the project has entered the substantive stage.
The meeting was attended by Standing Committee Member and Secretary General of CPC Chaoyang Municipal Committee Xie Weidong, Standing Committee Member of CPC Chaoyang Municipal Committee and Vice Mayor Li Ze, leaders of Research Officer of Chaoyang Municipal Committee, Office of Chaoyang Municipal Committee, Urban Development & Reform Committee and Chaoyang County, Chief Economist of China Power Yang Yufeng, heads of the strategy department, finance department, engineering department and Shenzhen Energy Investment.