China Power (Suzhou) Wins China Award at CGMA Annual Awards
& CFO Forum 2019
China Power (Suzhou) Shared Services Co., Ltd. ("China Power (Suzhou)") was honoured with the Outstanding Shared Service Centre in China Award for 2019 at the CGMA Annual Awards & CFO Forum 2019, held in Pudong, Shanghai on 6 December 2019.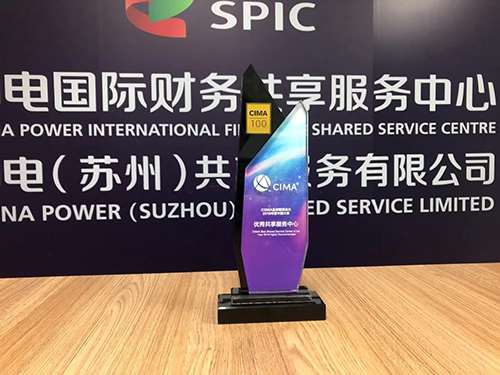 Known as the "Finance Oscar", the award event was organised by the world's largest management accounting institute, the Chartered Institute of Management Accountants. The judge panel comprised experts and academics from various fields such as management representatives from public institutions, expert consultants on financial management and accounting, members of CGMA 100 and media leaders, whereas the award selection process involved whole-process vote monitoring and counting and review by Ernst & Young Global Limited. China Power underwent processes including online application, expert evaluations and online voting and finally won the Excellent Shared Service Centre Award.
This is the first international award for China Power (Suzhou) since its inception. Prior to that, the company was presented with the First-class Management Innovation Award for 2019 by SPIC.