Mr. He Xi Meets with Mr. Gao Guangjun and His Delegation
On June 23, Mr. He Xi, Chairman and President of CPID and Chief Engineer (New Energy) of SPIC, met with Gao Guangjun, member of the Standing Committee of Qidong Municipal Party Committee of Jiangsu Province, and his delegation at Beijing headquarters. Mr. Zhao Yonggang, Vice President of CPID, took part in the meeting.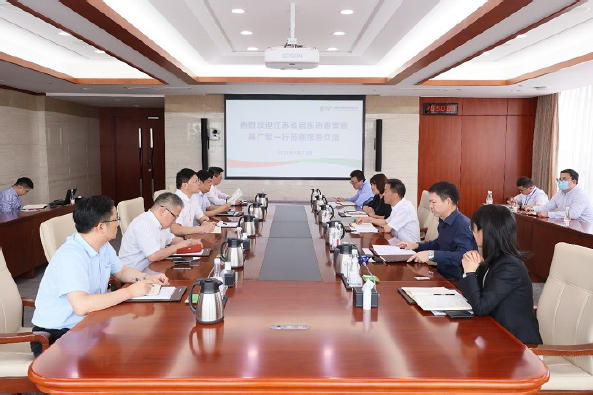 Mr. He welcomed Mr. Gao and his delegation to visit CPID, and introduced the characteristics and advantages of SPIC and CPID as well as their achievements in clean energy development. Mr. He said CPID, as a core subsidiary of SPIC, had strong partners, funds and technological advantages in the upstream industries of new energy, and thus can help local governments implement green development plans such as industrial restructuring, regional energy planning, industry development and rural revitalization.
Mr. Gao expressed his gratitude for the warm reception of CPID, and introduced the history, traffic and geographical advantages, talent introduction concept, new energy development direction and coastal resources of Qidong. Mr. Gao said that Qidong had a complete new energy industry, with abundant photovoltaic and wind power resources, and hoped to work with CPID in local transformation and development.
The two parties held in-depth discussions on the "3060" carbon targets and industry development, and reached a good consensus on starting Qidong's "zero-carbon plan" as soon as possible, carrying out all-round strategic cooperation in photovoltaic power, offshore wind power, local power grid and rural revitalization projects, and accelerating the implementation of cooperation projects.