Mr. He Xi Meets with Mr. Wang Yi and His Delegation
On June 23, Mr. He Xi, Chairman and President of CPID and Chief Engineer (New Energy) of SPIC, met with Mr. Wang Yi, member of the Standing Committee of Lixian County Party Committee of Hunan Province and head of the United Front Work Department, and his delegation at Beijing headquarters. Mr. Zhao Yonggang, Vice President of CPID, took part in the discussion.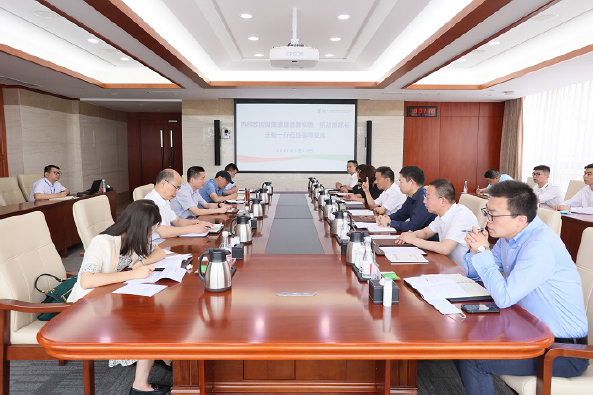 Mr. He welcomed Mr. Wang and his delegation to visit CPID, and briefly introduced the basic situation of SPIC and CPID. Mr. He said that SPIC, as one of the largest clean energy power generation groups, had a professional technical support platform and obvious advantages, and CPID, as a core subsidiary of SPIC, had the advantages in foreign investment, technology, management and talents. He hoped to cooperate with Lixian County People's Government, give full play to the advantages of both parties, and jointly develop photovoltaic energy, rural revitalization, hydrogen energy and heavy truck battery swapping projects, thus boosting the high quality development of Lixian County.
Mr. Wang expressed his gratitude for the warm reception of CPID, appreciated CPID's achievements in new energy development, introduced the basic situation and new energy investment promotion strategy of Lixian County, and expressed his expectation for the cooperation with CPID in various fields.
Subsequently, Mr. Wang and his delegation visited the Chaoyang 500 MW photovoltaic grid parity demonstration project and affirmed the project construction and advanced management mode.