Gemstar Tower Distributed PV Project Commences in Hong Kong
On July 26, 2021, the Gemstar Tower distributed PV project, which is the first clean energy project jointly developed by CPID and Towngas, commenced in Hong Kong.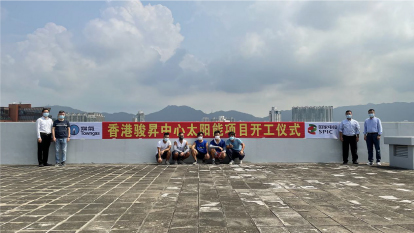 In June 2020, CPID had the first meeting with Towngas according to SPIC's plan for cooperation with Towngas, and both sides agreed to jointly develop clean energy and integrated smart energy projects in the Greater Bay Area (GBA). On September 7, 2020, CPID and Towngas signed a cooperation framework agreement. In September 2020, both sides started to develop distributed PV projects in Hong Kong. In December 2020 and July 2021, a project company was set up in Hong Kong and Shenzhen, respectively.
In addition to the Gemstar Tower project in Kowloon, CPID and Towngas are also cooperating on the Grand Central Plaza project in Shatin, for which a cooperation agreement has been signed. In the future, both sides will jointly develop another four rooftop PV projects, including TGT Data Center and Kowloon Bay Industrial Center.