Mr. He Xi Meets with COO of Huawei Digital Energy Technology
On the morning of July 29, 2021, Mr. He Xi, Chairman of CPID and Chief Engineer (New Energy) of SPIC, met with Mr. Chen Guoguang, Chief Operating Officer of Huawei Digital Energy Technology Co., Ltd., and his delegation.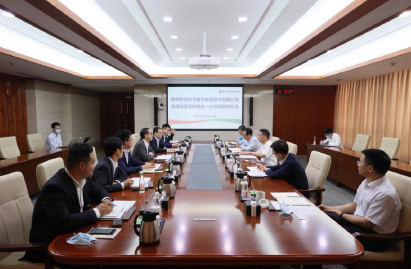 Mr. He extended a warm welcome to Mr. Chen and his delegation, and briefly introduced the basic information, clean energy development, and development direction of SPIC and CPID. Mr. He said that CPID, as a core subsidiary of SPIC, has great strengths in fund, technology, talent, and management. With an open, collaborative mindset and flexible cooperation modes, CPID sees a wide range of opportunities for cooperating with Huawei in energy storage, rural revitalization, new energy, integrated smart energy, international businesses, etc.
Mr. Chen appreciated the warm reception of CPID and introduced the solutions and technology development direction of Huawei Digital Energy Technology Co., Ltd. in smart microgrid and energy storage. Both sides had an in-depth discussion on these aspects, and reached a consensus on intensive cooperation in energy storage, distributed PV, and building energy saving, so as to complement each other with their respective strengths and achieve win-win results.