Guangxi Changzhou Hydropower Organizes Fisheries Enhancement Activity
The CPID Guangxi Changzhou Hydropower Plant is located on the trunk stream of Xunjiang River, 12 km upstream of Wuzhou City. The upstream and downstream water areas are favorable habitats for fishes to breed, forage, and overwinter. Since 2009, Guangxi Changzhou Hydropower Development Co., Ltd. has organized fisheries enhancement activities for 12 consecutive years, to supplement fishery resources, protect the environment, fulfill its corporate social responsibility, and ensure sustainable development.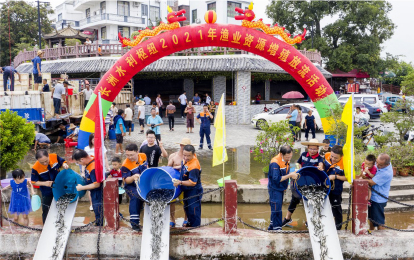 On July 31, 2021, Guangxi Changzhou Hydropower Development Co., Ltd., together with the city's Agriculture and Rural Affairs Bureau, Fishery Superintend Brigade, and relevant business units of Changzhou District, organized the Company's employees, volunteers, and citizens to participate in the fisheries enhancement activity, after completing the on-site check and sampling test of the fishes. Within two hours, over 6.3 million fishes of nine species, including black carp, grass carp, silver carp and bighead carp, were released into the river.
The Company will continue to strive for green and sustainable development, protect the ecological environment of Xijiang River, and strive to be a leader in local ecological protection and construction.