CPID Signs Strategic Cooperation Agreement with Mingyang Smart Energy
On August 2, 2021, Mr. He Xi, Chairman of CPID and Chief Engineer (New Energy) of SPIC, met with Mr. Zhang Chuanwei, Chairman and CEO of Mingyang Smart Energy Group Co., Ltd. ("Mingyang Smart Energy"), and his delegation at the headquarters of CPID and witnessed the signing of a strategic cooperation agreement between both sides. Mr. Gao Ping, Executive Director and President of CPID, attended the signing ceremony.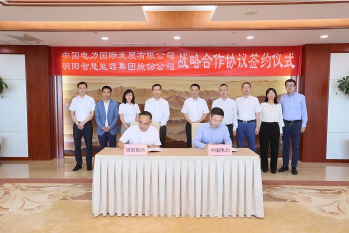 Mr. He extended a warm welcome to Mr. Zhang and his delegation, and introduced the current situation and development plan of CPID in clean energy and energy storage. Mr. He hoped that both sides could cooperate closely in wind power, PV, and energy storage. Mr. Zhang introduced the industrial layout, technical strengths, and resource advantages of Mingyang Smart Energy in offshore wind power and PV power industries, and hoped to promote cooperation between both sides relying on its new technologies and energy-efficient wind turbines.
Both sides reached a consensus on their subsequent cooperation in Guangdong and Henan provinces. They will give full play to their advantages in resource, technology, and industry, and cooperate closely in the fields of wind power, PV power, and energy storage, which will be of great significance in accelerating the promotion of CPID's high-quality and low-carbon transition.