Gao Ping Meets with Li Qizhao and His Delegation
On August 10, 2021, Mr. Gao Ping, Executive Director and President of CPID, met with Mr. Li Qizhao, General Manager of SNPDRI, and his delegation at the headquarters of CPID. Both sides exchanged views on county-wide distributed PV projects, "model house" demonstration projects, rural revitalization, internationalization, and digitalization.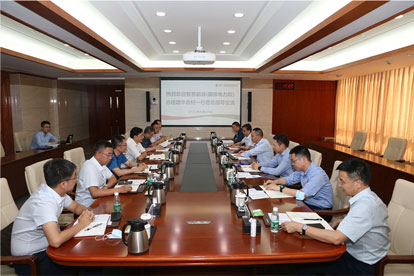 Mr. Gao briefly introduced CPID's ideas about clean energy transition and innovative achievements. He expressed that the construction of new power systems dominated by new energy is the common cause of both sides, and hoped that both sides would give full play to their respective strengths in new energy project development, county development, rural revitalization and internationalization, strengthen cooperation, and achieve mutual benefits and win-win results.Mr. Li introduced in detail SNPDRI's market development, county development, internationalization and digital development in respect of integrated smart energy. He said that SNPDRI and CPID had a good basis for cooperation, and hoped both sides would strengthen cooperation in building new power systems dominated by new energy, technical support for international projects, digital development, and integrated energy projects.