Gao Ping Meets with Zhang Kaihui and His Delegation
On August 13, 2021, Mr. Gao Ping, Executive Director and President of CPID, met with Mr. Zhang Kaihui, General Manager of Beijing Branch of China Galaxy Securities (CGS), at the headquarters of CPID. Both sides exchanged views on clean energy transition, leverage reduction, etc.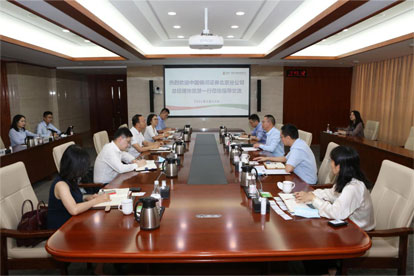 Mr. Gao extended a warm welcome to Mr. Zhang and his delegation, and introduced the basic situation, history and strategies for transition and development of SPIC and CPID. He said that, according to the current development trend of the energy industry, CPID was vigorously promoting the development of clean energy such as PV and wind power, actively cultivating the industries of integrated smart energy, hydrogen energy and energy storage, and accelerating the rural revitalization and beautiful countryside construction. He said that both sides could give full play to their respective advantages, jointly explore the optimal mode of combining finance and industry, and share the strategic achievements of industrial transformation and upgrading.
Mr. Zhang expressed his high appreciation for the development achievements and ideas of SPIC and CPID, highlighted the service advantages of CGS in reducing corporate leverage and controlling and lowering financing costs, and hoped to carry out in-depth cooperation with CPID and provide comprehensive support and services for the clean energy transition of CPID.