CPID Completes Trial Operation of Its First Electric Heavy Truck
Recently, CPID completed the trial operation of its first 6*4 electric tractor in Pingwei Power Generation Company, marking a new breakthrough in the practical application of green electric transportation.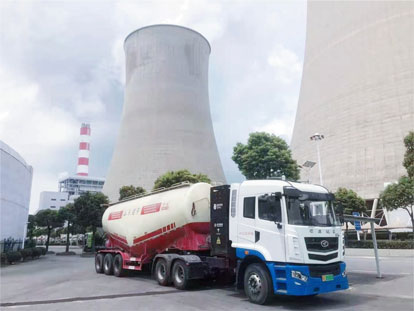 Pingwei Power Generation Company had been actively exploring its way to realize green electric transportation for power generation by-products and internal construction vehicles. The Company cooperated with Shanghai Ronghe Company, selected the fly ash transportation in Fengtai Hailuo Cement Plant in Anhui Province as the application scenario, and carried out application scenario test of the electric heavy truck in plain areas. In the test, key indicators such as energy consumption and range of the electric heavy truck were collected, and an economic comparison was made between oil and electricity. The data shows that electric heavy trucks are cleaner, more energy-efficient and cost-effective, and have unique advantages in fossil energy substitution and carbon emission reduction.
The successful application of electric heavy trucks for power generation by-products transportation by Pingwei Power Generation Company can be replicated and promoted in other regional power plants, regional logistics transportation, terminal loading and unloading, and public transportation. Undoubtedly, increasing the use of electric heavy trucks in these scenarios will greatly reduce vehicle emissions in the region and contribute to environmental protection.