CPID Signs Strategic Cooperation Agreement with New Life Town Group
On August 15, 2021, Mr. Gao Ping, Executive Director and President of CPID, met with Mr. Zhang Long, President of New Life Town Group Co., Ltd., and his delegation, and witnessed the conclusion of the strategic cooperation agreement between both sides.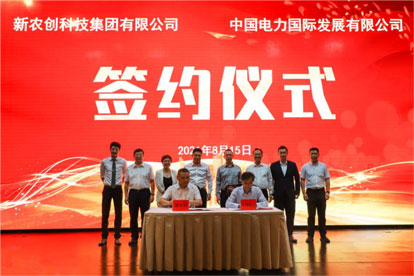 During the meeting, Mr. Gao and Mr. Zhang introduced the basic information and development achievements of the two sides, respectively. Mr. Gao said that, in the context of "3060" carbon targets and rural vitalization, it is the right time for both sides to reach a strategic cooperation and grasp the opportunities. In the future, by virtue of joint strength, complementary advantages, and resource integration, both sides can advance the progress of agricultural modernization, low-carbonization, and smart development and help rural areas achieve common prosperity, while attaining mutual benefits and win-win results.
Mr. Zhang highly appreciated the development strategies of SPIC and CPID, and were convinced that both sides could lead the industrial transformation by joint efforts.
Besides, both sides had a discussion and reached consensus on their cooperation mode, mechanism, and path.