CPID Signs Strategic Cooperation Agreement with CIGWEM
On August 16, 2021, Mr. Gao Ping, Executive Director and President of CPID, met with Mr. Zhou Nan, Chairman of China Investment Great Wall Enterprise Management Co., Ltd. (CIGWEM), and his delegation at the headquarters of CPID, and signed the strategic cooperation agreement with CIGWEM. Mr. Zhao Yonggang, Vice President of CPID, and Xu Ji, Deputy Chief Accountant of CPID, attended the signing ceremony.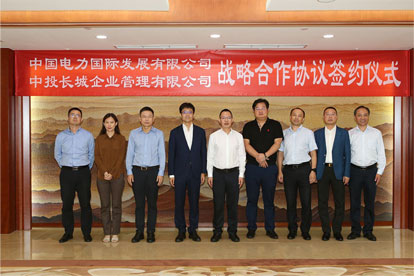 Mr. Gao extended a warm welcome to Mr. Zhou and his delegation, and introduced the achievements of CPID in clean energy, energy storage, hydrogen energy, and international business, as well as its financing advantages. He said that a joint venture platform should be set up as soon as possible so that both sides could give full play to their advantages to promote rural vitalization and county-wide energy development and construction, and achieve win-win results.
Mr. Zhou introduced CIGWEM in terms of the Belt and Road Initiative, international business, SkyRail transit, and capital operation, and hoped to carry out in-depth cooperation with CPID in promoting the new energy market and capital market at home and abroad.
Both sides reached a consensus on establishing a joint venture platform and carrying out diversified cooperations. In the future, both sides would give full play to their advantages in resources, market, capital, and technology, so as to prioritize county-wide development of resources and energy storage projects in relatively advanced provinces like Shandong and Henan. In addition, both sides would establish a fund platform to accelerate their cooperation.