CPID Signs Strategic Cooperation Agreement with GAC Motor
On August 20, 2021, Mr. Gao Ping, Executive Director and President of CPID, and his delegation visited GAC Motor, and witnessed the conclusion of the strategic cooperation agreement between both sides. The agreement was signed by Mr. Zhao Yonggang, Vice President of CPID, and Mr. Li Yong, Deputy General Manager of GAC Motor, on behalf of each side.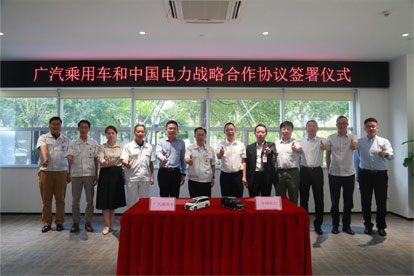 Mr. Gao and his delegation visited the stamping and assembly workshops of the second production line of GAC Motor to learn about the vehicle production process in GAC Motor.
At the meeting, Mr. Zhang Yuesai, General Manager of GAC Motor, extended a warm welcome to Mr. Gao and his delegation. Mr. Zhang briefly described the development history and business overview of GAC Motor and introduced the company's development objectives and cooperation demands during the 14th "Five-year Plan" period. Moreover, Mr. Zhang expressed strong willingness to actively respond to green energy and low carbon actions aiming to deliver the "3060" carbon targets, and hoped to cooperate with CPID on developing quality projects.
Mr. Gao introduced the basic situation and clean energy transition strategy of CPID. Centering on the "3060" carbon targets, Mr. Gao shared the dynamics of distributed energy, hydrogen energy, energy storage, and green transportation, and exchanged opinions with GAC Motor, hoping that both sides could give full play to their respective advantages and carry out in-depth cooperation in rural vitalization, charging and battery swapping, so as to achieve mutual benefits and win-win results.