Mr. He Xi Visits Offshore Wind Power Project of CPID
From August 21 to August 22, 2021, Mr. He Xi, Chairman of CPID and Chief Engineer (New Energy) of SPIC, and his delegation visited the Southern No.3 Offshore Wind Farm in the Shandong Peninsula and witnessed the delivery of the offshore substation for the project.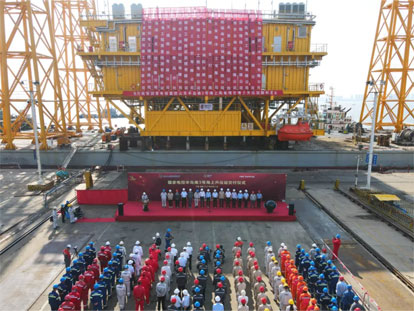 On August 21, 2021, Mr. He Xi and his delegation visited the onshore control center and learnt more about the construction progress of the project. Then they went to the Haiyang manufacturing base of CIMC Raffles and attended the offshore substation delivery ceremony. As the power collection center of offshore wind farms, offshore substation is the "heart" of a wind farm. The delivery of the offshore substation marked the completion of another important milestone of the project.
On August 22, 2021, Mr. He and his delegation attended the construction coordination meeting of the project chaired by Xing Fu, General Manager of the Shandong branch of CPID. At the meeting, representatives of the construction contractors reported their construction progress, and discussed and reached consensus on issues requiring coordination. Mr. He put forward some requirements for enhancing leadership and safety, increasing communication and decision making efficiency, strengthening project management, and improving emergency management and problem solving capabilities. Mr. He hoped that the owner, EPC contractor, and other participants can work closely and make concerted efforts to ensure smooth progress of the project and achieve grid connection as scheduled.