CPID Signs Strategic Cooperation Agreement with Tsingyun Smart Energy Co., Ltd.
On September 3, 2021, Mr. He Xi, Chairman of CPID and Chief Engineer (New Energy) of SPIC met with Mr. Jin Yang, Chairman of Tsingyun Smart Technology Development Co. Ltd. and Deputy Chairman of Tustsingyun Smart Energy Co., Ltd., and his delegation, and attended the signing ceremony of the strategic cooperation agreement. Mr. Zhao Yonggang, Vice President of CPID, and Mr. Chen Lingkui, President of Tsingyun Smart Technology Development Co. Ltd. signed the agreement on behalf of both sides.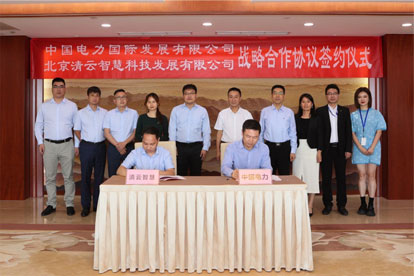 Mr. He extended a warm welcome to Mr. Jin and his delegation and introduced CPID's development history and strategy for clean energy development. Mr. He said that CPID would increase its investment in new tracks such as energy storage, hydrogen energy, geothermal energy, battery swap for heavy trucks and industrial R&D, and hoped to have in-depth cooperation with Tsingyun in the R&D, industrialization and project implementation of geothermal energy, energy storage and other related technologies, to achieve win-win cooperation and joint development.
Mr. Jin expressed his gratitude for CPID, and introduced the history and basic situation of Tsingyun. He said that Tsingyun had rich experience in renewable asset development, integrated smart energy services and thermal energy storage. He further added that their business scope and strategy of focusing on the "3060" carbon targets and promoting green development are in line with the development path of CPID. He believed the cooperation between two sides enjoyed broad prospects, and expressed his willingness to set up a joint venture with CPID to strengthen cooperation in new energy projects.