Mr. Gao Ping Visits Sinopec Star on Geothermal Business
On August 31, 2021, Mr. Gao Ping, Executive Director and President of CPID, and Mr. Fu Jinsong, Vice President of CPID, led a delegation to visit Sinopec Star Co., Ltd. ("Sinopec Star") on geothermal business.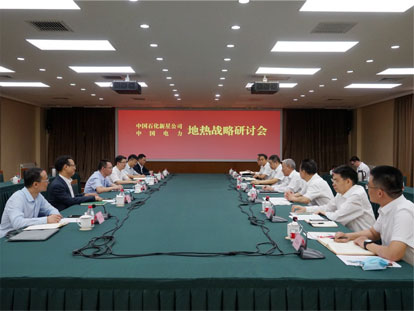 Mr. Dang Liqiang, Executive Director of Sinopec Star, extended a warm welcome to Mr. Gao and his delegation. Mr. Dang briefly introduced Sinopec Star's development history, geothermal business development and strategy of "one base, two wings and 'three new' business", and expressed his willingness to work with CPID to jointly promote the development of new energy and geothermal business on a large scale.
Mr. Gao expressed his gratitude to Sinopec Star for the meeting and praised its achievements in the geothermal field. Mr. Gao introduced the basic situation of CPID and the development of "three new" business, and expressed his willingness to set up a geothermal joint venture with Sinopec Star by virtue of the respective advantages of both sides. Mr. Gao also said that both sides could conduct research on Sinopec's oilfield consumption of electricity and energy, and explore the feasibility of developing distributed "PV + energy storage" projects based on oilfield application scenarios.
Mr. Fu said in order to promote the development of geothermal energy and new energy business of both sides, a flexible and efficient talent exchange mechanism should be established, and CPID could recommend professional talents in the field of integrated smart energy and electricity for Sinopec Star, while Sinopec Star could recommend professional talents in the field of geothermal energy for CPID, so as to enhance the team strength of both sides.