CPID Promotes Rooftop PV Power Projects Progressively in Changshu
On September 1, 2021, CPID made significant progress in promoting rooftop PV in Changshu City. In the presence of Changshu Municipal Government leaders, Changshu Power Generation Company and its partner signed the Changshu Rooftop PV Power Development Agreement, which states CPID's right to develop rooftop PV power across Changshu.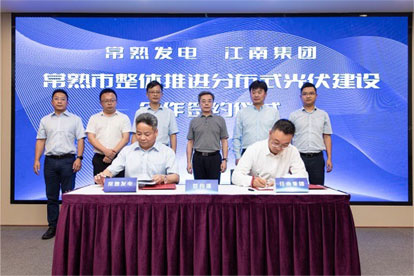 Changshu City is located in the south of Jiangsu Province and is a county-level city under the jurisdiction of Suzhou City, ranking among the top five of "China's Top 100 Counties" and "China's Top 100 Counties in Comprehensive Industrial Competitiveness". It is a national historical and cultural city with a developed economy and high potential for distributed energy market. The signing of the Changshu-wide PV power development agreement will increase CPID's brand influence, speed up the development of rooftop distributed PV power in the whole city, and promote the "3060" carbon targets at the county level.
According to the agreement, CPID will establish a joint venture with Jiangsu Genland Trade Group Co., Ltd. to coordinate the rooftop resources of Changshu's public buildings and industrial and commercial buildings for instance the government organs, schools, hospitals and village committees, to promote the development of distributed rooftop PV power projects in the city in a holistic and orderly manner, as well as cooperate with towns and enterprises that are willing to carry out new energy projects. Jiangsu Genland Trade Group Co., Ltd. is a state-owned company directly under the Changshu Municipal Government, formerly known as the Changshu Commerce and Materials Bureau.