Tian Jun Meets with Shu Wei, President of China Reform Financial Leasing Co., Ltd.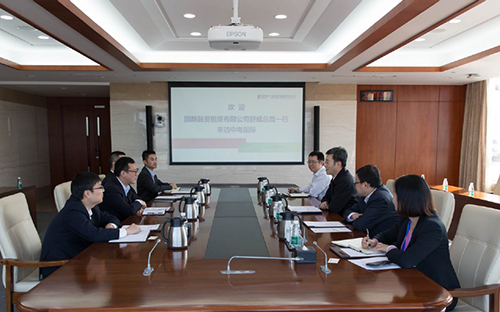 On 19 October, Tian Jun, executive director and president of China Power, met with Shu Wei, president of China Reform Financial Leasing Co., Ltd. ("China Reform"), and his colleagues.
Tian Jun welcomed the visit of Shu Wei and his colleagues, and appreciated the support China Reform has given to China Power and the Pu'an power generation financing project. Tian Jun introduced the company's installed capacity of power generation, profitability, risk control and compliance and management capability. Tian Jun said that China Power placed great emphasis on the investment return of the newly developed projects and investment risk control of projects. Currently, new energy assets of the Company account for 40% of its total assets. Led by the overall strategy of SPIC, China Power will acquire more new energy assets. He hoped both parties could establish win-win cooperation by leveraging their respective advantages.
Shu Wei introduced the development background of China Reform and the achievements it has made after its establishment two years ago, shedding lights on the development mindset and service advantage of China Reform. Shu Wei hoped that China Reform could enhance the cooperation with China Power, give full play to its advantages and adjust product offerings according to the characteristics of China Power's new projects in order to provide more support and services for the project development and operation of China Power.