Zhongdian Zhihui Signs Agreement with Linde Group for Cooperation on Green Hydrogen
On 20 November, the Strategic LOI Signing Ceremony on Green Hydrogen between Zhongdian Zhihui Comprehensive Energy Limited and Linde Group was held at the head office of China Power.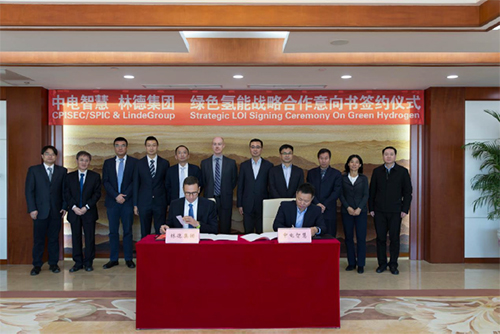 The ceremony was attended by Chief Economist of China Power Yang Yufeng, heads of Zhongdian Zhihui and relevant departments of China Power, Chief Application Technology and Innovation (Globe) of Linde Group Dr. Mathias Kranz, and General Manager of Sales and Marketing (South Asia), among others.
Since this July, China Power has started the research on the production and supply technology of green hydrogen, to explore solutions of new clean energy for Beijing, improve air quality of Beijing and increase the use of new energy. As the largest professional gas supplier in the world, Linde Group gave high recognition for green hydrogen produced by SPIC from electrolyzed water by using renewable energy. It also actively expressed the intention to establish cooperation on and reached cooperation consensus on environmental protection, energy conservation, emission reduction and development of sustainable technology in China. The signing of the strategic LOI on green hydrogen has made clear the communication and cooperation mechanism as well as the development direction of the two companies in the field of green hydrogen while increasing the international cooperation channels for the green hydrogen technology of China Power. It also represents an important move of China Power to accelerate the implementation of its development strategy and transformation to an advanced energy technology developer, clean low-carbon energy supplier and energy ecosystem integrator.