Tian Jun Meets with CEO of Siemens and his team
Executive Director and President of China Power Tian Jun met with CEO of Siemens Vinod Philip and General Manager of Siemens (China) Yao Zhenguo on 20 November. Chief Engineer of China Power Xue Xinchun attended the meeting.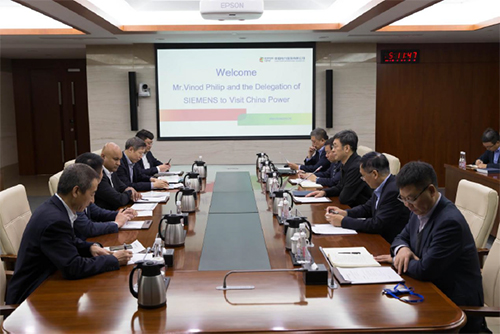 Tian Jun introduced the basic information of China Power and the company's achievement in clean development, comprehensive development and intelligent development. He said China Power is accelerating its transformation from a traditional power supplier to a comprehensive energy service provider through construction of digital demonstration power stations and small intelligent power stations and by pushing ahead with the photovoltaic power grid parity demonstration project and Yanqing district's hydrogen power transport demonstration project. He hoped both parties can increase exchanges in fields of digitalization and hydrogen utilization by leveraging their advantages in order to explore more opportunities for mutual benefits.
Philip introduced the adjustment of the organizational structure of Siemens' business segments. He mentioned under the new management structure Siemens will place more emphasis on making more investments in R&D of new technology and new products according to the needs of customers. He hoped both parties can establish cooperation in low carbon development, digitalization and distribution. They also exchanged their views on digital twin and auto-diagnosis, improvement and repair of machines.
Heads of the international department, production department and engineering department of China Power attended the meeting.