Pu'an Power Generating Company's No.2 Generating Unit Successfully Passes 168-hour Trial Run
At 24:00 on 15 December, the No.2 generating unit of Pu'an Power Generating Company successfully passed the 168-hour trial operation. Congratulations letters were received from the coal-fired department of SPIC and Tian Jun, Executive Director and President of China Power. The commissioning ceremony was attended by Xue Xinchun, Chief Engineer of China Power.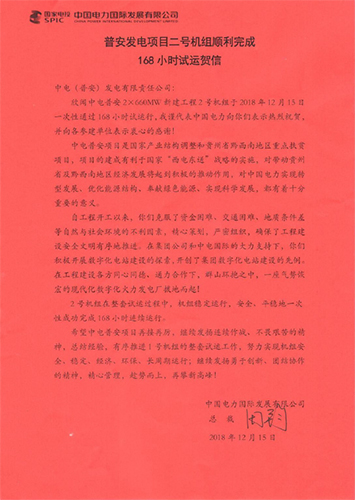 For the commissioning of the generating unit, the company stringently executed the trial operation requirements, made detailed arrangement and strengthened skills trainings. Specific team was also formed to overcome the technical problems arising in the course of the trial run. With the concerted effort of all participating departments and units, the company achieved another great success in all key procedures, such as boiler hydrostatic test, cylinder buckling of steam turbine, energizing of auxiliary power system, boiler pickling, boiler ignition, blow pipe, steam turbine turning, grid connection of generating unit and 168-hour trial run.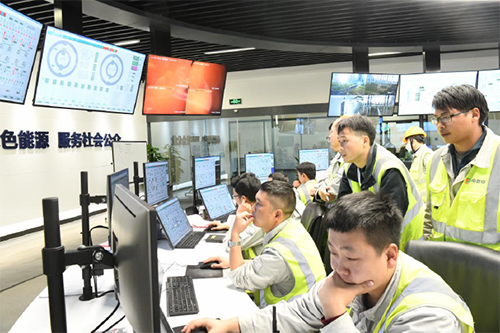 During the 168-hour trial run, the no.2 generating unit of the company maintained stable operation, with all indicators meeting or exceeding the prescribed standards. The utilization factors of the protection system and automation system reached 100%. The environmental protection facilities for desulphurization, denitrification and dust removal were put into operation simultaneously and all the emission indicators satisfied the environmental protection requirements. All the trial-run projects exhibited high-standard of completion.