GE President of Global Steam Turbine Visits China Power
On January 18, Frederic Wiscarty, the President of Global Steam Turbine, GE, led a team to visit China Power. Vice President Huang Yuntao and Xue Xinchun, the Chief Engineer, jointly received the guests. Both sides reviewed the cooperation achievements and experience of the project and conducted in-depth discussions and exchanges on further strengthening cooperation.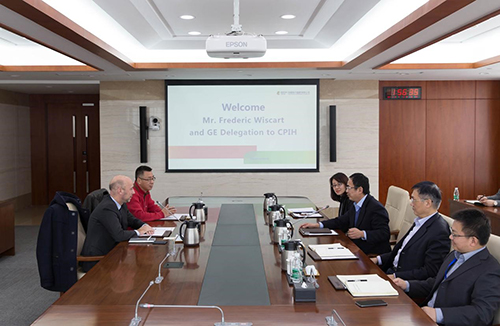 Huang Yuntao first introduced the history of China Power and reviewed the long-term, stable, and good cooperation between China Power and GE. Huang Yuntao hoped that the two sides would well carry out Shentou Project Phase II, conduct in-depth cooperation in more fields and projects, and achieve more rewarding results.
Frederic. Wiscarty held that, this was his first visit to China after taking office. And his first stop was China Power. He thanked China Power for its years of support and understanding. In the future development, GE will continue to provide support and services in business, technology, and supply, strive to offer the best benefits and efficiency to customers, fully promote in-depth cooperation between the two sides, jointly demonstrate the value of cooperation, and achieve win-win development.
Xue Xinchun put forward work requirements for the implementation of projects, such as Dabie Mountain Project Phase II.
Heads of relevant departments attended the meeting.