Electricity Sales Department and Maintenance Department of Wuhu Electric Power Join Hands to Expand "Electricity Sales+" Business
Wuhu Electric Power adopts a market and customer-oriented approach. On 18 March, the electricity sales department and maintenance department paid a visit to three customers in a view to expanding the "electricity sales+" business and further developing the power consumption market and electricity sales business.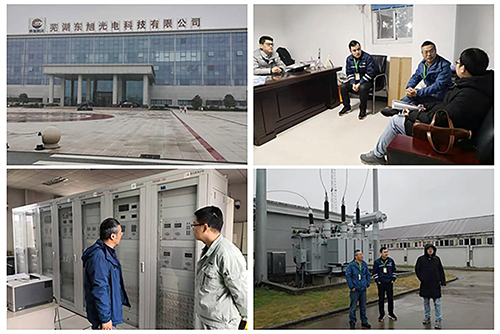 In mid-March, knowing that Wuhu Dongxun Photovoltaic Technology Company will invite tenders for electrical equipment preventive trial project, the electricity sales department and maintenance department of Wuhu Electric Power visited the company and introduced Wuhu Electric Power's professional advantage in energy consumption technology, maintenance and management and expressed their intention to participate in the tender. The departments gained a deep understanding of the company's 110KV substation and its operation through the visit and offered maintenance advice. After several rounds of face to face discussion, they signed a letter of intent for cooperation on 18 March.
In order to enhance mutual trusts and consolidate cooperation achievement, Wuhu Electric Power conducted re-visits to two direct power supply users and exchanged views with these two users on their current operation and maintenance of electrical equipment and oil testing so as to know more about and offer professional advice on the operation of their electrical equipment.