China Power Signs Strategic Cooperation Framework Agreement with Yanqing Government for Green Hydrogen Energy
Witnessed by Mu Peng, secretary of Yanqing District Committee, Beijing, China Power signed the Green Hydrogen Energy Strategic Cooperation Framework Agreement with Yanqing Government. Tian Jun, executive director and president of China Power, and Yu Bo, deputy secretary and district chief officer of Yanqing, signed on the agreement.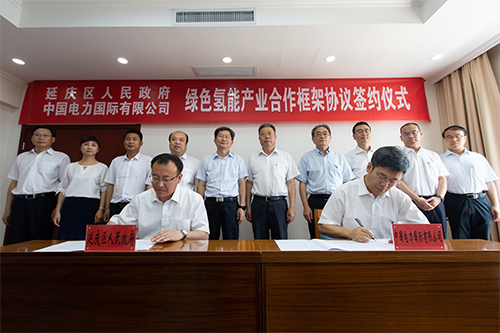 As one of the first batch of regions in China where innovative base will be built and as Beijing's "ecological development zone" which recognizes lucid waters and lush mountains as invaluable assets, Yanqing is implementing the ecological civilization development strategy and advancing green economic development. China Power and Yanqing has reached a high degree of consensus on the innovative development of green hydrogen energy business, promising to offer mutual support and assistance for the development of hydrogen energy. Pursuant to the agreement, both parties will see 2022 Beijing Winter Olympics as an opportunity to facilitate green production of hydrogen, execution of hydrogen projects, exploration of innovative hydrogen technology, and development of hydrogen equipment. In collaboration with Beijing Municipal Commission of Transport and Beijing Organizing Committee for Winter Olympics, they will pioneer the application of hydrogen-fueled transport, and foster the construction of green and smart parks, low-carbon demonstrative villages and new energy demonstrative zones.