China Power Chaoyang 500MW PV Grid Parity Pilot Project Kick-off Ceremony is Held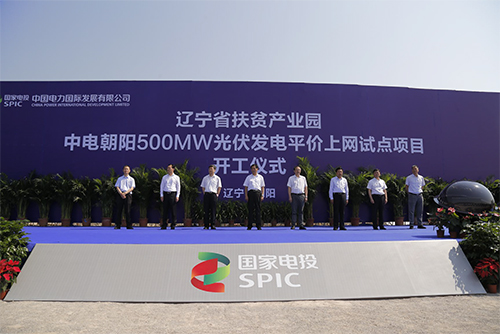 The Kick-off Ceremony of China Power Chaoyang 500MW PV Grid Parity Pilot Project was held in Chaoyang County, Chaoyang City, Liaoning on 24 June. Li Jun, director of Liaoning Poverty Alleviation Office, Ren Jianbiao, secretary of Chaoyang Municipal Committee and Standing Committee of Municipal People's Congress, Xie Weidong, deputy secretary of Municipal Committee, Li Shulei, assistant to general manager of the company, and Tian Jun, executive director and president of China Power attended the ceremony.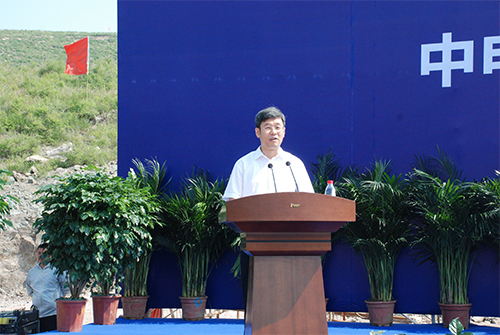 In his remarks, Tian Jun expressed appreciation to Liaoning Province, Chaoyang City, Chaoyang County and other grid companies for their support and assistance for the project. He said China Power and Chaoyang City both complemented each other well on the project, opening up a new chapter for mutual development. China Power will continue to forge partnership with local companies and give full play to its advantages in capital, technology and talents so as to boost economic development of the region. The company will comply with the requirements of local governments and ensure on-time delivery of the project.
Xie Weidong said China Power Chaoyang 500MW PV Grid Parity Pilot Project is one of the first group of mega-size PV grid parity projects in China, as well as the key investment project in Liaoning Province that involves the largest amount of investment and overseas capital with the shortest construction cycle. Upon completion, it will be of significant importance for accelerating the structural reform of businesses in Chaoyang, ensuring economic stability and promoting poverty alleviation. Chaoyang City will as always place emphasis on project construction in subsequent stage, and relevant government departments will exercise effective project management, and strive to solve all difficulties arising from the construction process so as to ensure on-time delivery.
The ceremony received participation from more than 240 people, including leaders of relevant departments of Chaoyang City and Chaoyang County, and representatives of China Power.