Zhongdian Zhihui and HRG Inks Reach Strategic Cooperation
On 20 August, Zhongdian Zhihui signed a strategic cooperation agreement with HRG and the Linyi International Innovation Park Project Cooperation Agreement with HRG (Linyi) at the exhibition zone of HRG at the World Robot Conference.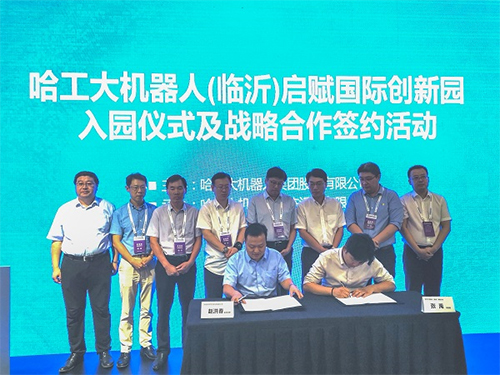 With a strong technological background, an institutional expert consultant team, rich experience in robot R&D, and business in fields including smart warehousing, healthcare, education and domestic living, HRG engages in the manufacturing, development and assembly of related equipment, and has become a first-class service robot supplier and integrated service provider in mainland China. The company owns industry bases and research institutes in places such as Yiwu, Kunshan and Linyi.
According to the agreement, Zhongdian Zhihui will invest in the construction and maintenance of facilities including gas turbine heating, electric and cool supply systems, distributed photovoltaic power generation facilities, storage systems and smart electric vehicle charging stations at the industry park zone where HRG is located, aiming to enhance the park zone's smart energy management, intelligent systems and the safety and reliance of power, heat and coolness supply, and reduce its energy costs, and build an Internet + energy demonstration project.