Pu'an Power Generating Company's Leading Technology Recognised by Society
On 16 August, with "Digitalisation Gives Production Superpowers" as the title, Guizhou's Xinwen Lianbo reported the digital construction project of Pu'an Power Generating Company.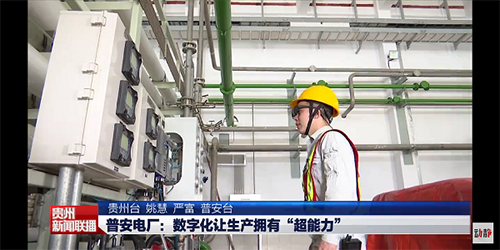 As a digital power construction demonstration project in China, Pu'an Power Generating Company accurately predicts the development trends of coal-fired power generation. By fully applying the fieldbus technology, comprehensively adopting the three-dimension designs, integrating the emerging technology to change operational management models and building a real-time, visualised and intelligent management and control system, the plant has successfully enhanced the safety, reliance and work efficiency, ultimately reducing operational costs.
For the first time, Pu'an Power Generating Company incorporated the APS function (start with one key) into its W-shape flame boiler units. In particular, the function of increasing the temperature and pressure in boilers with fire, which remains a technical difficulty, is indeed an industry-leading technology. The three-dimension wall temperature monitoring system for W-shape boilers, first developed based on the SIS system in China, provides real-time heat adjustment guidance for operational staff to ensure that the boilers will not overheat and the temperature difference in the boilers will not exceed the limits.
On 30 August, the company further acquired extensive social recognition for its technological capabilities with its coal inspection centre passing the review by the CNAS laboratory and making into the list of nationally accredited laboratories.
According to sources, the company is continuously advancing in its digital construction and will accumulate valuable equipment data for data analysis and prepare for equipment inspections and maintenance.