Hongtao Photovoltaic Power Station, China Power's Top Power Company, Awarded Title of "Winning Photovoltaic Power Station" by China Electricity Council
On 27 September, in the recent comprehensive evaluations, data demonstration and final reviews of China's 1223 solar power generation indexes for photovoltaic power generation enterprises, energy consumption indices and equipment operation level indexes, China Power's top power company, the Hongtao Photovoltaic Power Station was amongst the first batch of companies awarded the title "'AAAAA' Superior Photovoltaic Power Station benchmarked against Annual Power Industry Photovoltaic Power Generation Operation Index for 2018" by the China Electricity Council.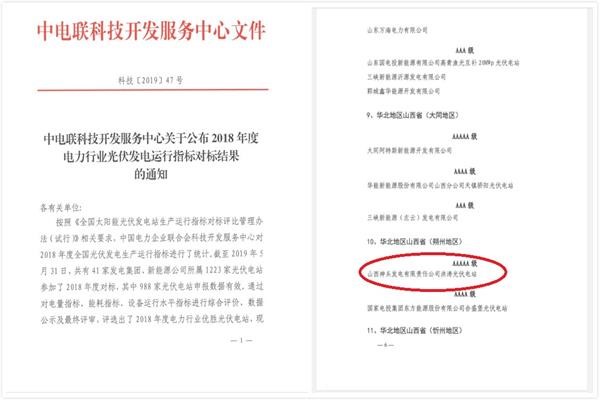 The Hongtao Photovoltaic Power Station is a 50,000 kilowatt photovoltaic project constructed by the company at an abandoned ash yard. Situated around 500 metres south of Dongshao Village, Licheng District, Chenzhou City, Shanxi Province, the project is the first photovoltaic power project of State Power Investment Corporation (SPIC) and China Power in Shanxi Province, and the SPIC's first operational photovoltaic power generation project in an ash yard. The project received a travel permit from the Shanxi Development and Reform Commission (SDRC) on 15 February 2015 and was recorded by the SDRC on 10 April, becoming the first photovoltaic power project recorded by a provincial development and reform commission in Zhangzhou City.
Since the project was launched, the company has attached great importance to technical upgrades and seriously studied the economic operation of power generation by completing many technical upgrades and modifications and continuously enhancing equipment reliability, leading to significant improvement in operating results.