China Power Notches Both Group and Individual Awards in SPIC's Relay Protection Skills
Contest
On 22 November, there was a closing ceremony for the Relay Protection Skills Contest of the first annual technique competition "Let's Make Wonderful Achievements" held by State Power Investment Corporation Limited, where the representative team from China Power claimed the top spot in the group category, the third time for the company this year following its winning streak in the earlier fuel testing and thermal skills competitions.
Wuhu Electric Power's Zhang Linhao and Pingwei Power Generating Company's Wang Fei received first-class awards and were dubbed "Technical Experts among Central Enterprises", while Liu Siyu from Pingwei Power Generating Company and Fan Linliang of Wuhu Electric Power were both given second-class awards.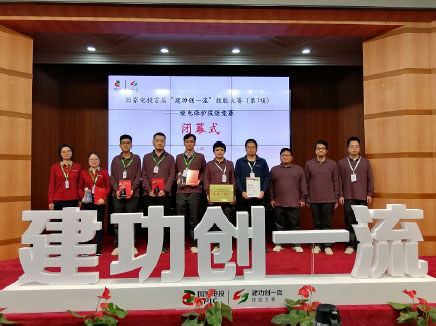 Held in Talent Academy between 18th and 22nd in November, the Relay Protection Skills Contest, with two sections on theoretical knowledge and relay protection respectively, attracted 90 strong contestants from 20 second-tier units. Contestants from China Power were calm and delivered excellent performance by demonstrating highly skilful operating abilities and high spirit.