All Contestants from China Power Awarded in National Fuel
Industry's Fuel Control Final
All of China Power's seven contestants won individual awards in the National Fuel Industry's Fuel Control Final closing on 1 December.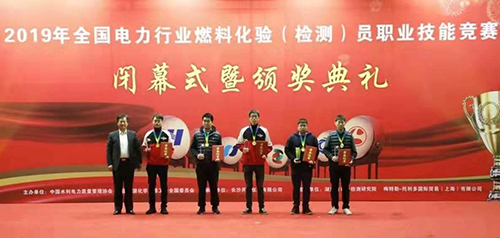 Claiming the first-class award for Excellent Fuel Control Team was SPIC, five out of its six participants from China Power.
Changshu Electric Power's Bu Lingqi won the fifth place in the competition and was given the title of "Leading Talent in National Power Industry", the highest individual honour in this contest.
Fuxi Power Company's Xiang Yuan and Tang Xiaojiang, Gu Quanzhong and Qian Yusha from Changshu Electric Power, Teng Teng of Yaomeng Electric Power Company, and Shangqiu Cogeneration Company's Wu Jingyi were all granted the "Technical Expert in National Power Industry" title.
This contest was jointly organised by the China Water Resource Electricity Quality Control Association and National Committee of China Energy Chemical Geological Union in the city of Changsha in Hunan Province between 25 November and 1 December. More than 150 contestants from eight companies – including China Huaneng Group, China Datang, China Huadian Corporation, China Energy Investment, SPIC, SDIC Power, Jingneng Group and Hebei Construction & Investment Group – vied in both theoretical and practical fields.